Best Rate Guarantee

Cosmores give you the guarantee that you pay the lowest price possible for this Hotel. Should you find your hotel room, with the same booking conditions, at a lower rate on the internet after you have booked, this Hotel will match it. Just contact us within 24 hours of booking, with details of the website. Here you are in direct contact with the Hotelier! Click this link for more details.

Loading Rooms...

Loading Rooms...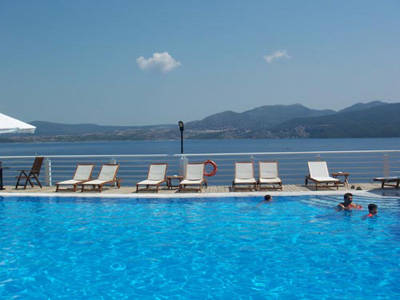 Area Information
Lefkas is situated in the west side of Greece, in the Ionian Sea, between Paxi and Kefalonia. The most remarkable advantage of Lefkas is its short distance from mainland Greece; a float bridge 25m long connects Lefkas with the rest Greece. So there is no need to travel by ship in order to come here and this is the reason for which Lefkas is a perfect destination for short holidays and also a nice choice for one-day visit even if you intend to go somewhere else. The clear, deep blue sea, the fine beaches and the total green see sights of Lefkas will stay in your memory forever.
Travel Information
Entering Lefkas city you will pass the float bridge and then you have to turn left. After about 2km you will pass a stoned bridge where you have to turn left again. Driving along the harbour and after having left this you will enter the city of Lefkas. When you will reach a crossroad (at Agios Minas Church) you will turn left and following the signs for Nidri, after 12km you will reach ADRIATICA APARTMENTS that are on the left side of the road.In case you do not have your own car you can take the local bus that goes to Nidri and reach Nikiana. Making a phone call we will come and drive you to our hotel.
Cancellation Policy
No fee charged if cancelled 14 days before arrival date. Cancelled within 14 days before arrival will result in the first night charge. In case of Non Show will result in the first two nights charge.
General
Free Parking
Family Rooms
Express Checkin/Checkout
Breakfast Buffet
Garden
Gay Friendly
Luggage Storage
Safety Deposit Box
Activities
BBQ Facilities
Outdoor Swimming Pool
Services
Car Rental
Fax/Photocopy
Free WiFi Internet Access Included
Internet Services
Room Service
WiFi / Wireless Lan
Please Insert Children Ages.
Last booking was made at Wed, 15 February 2017 from Athens, Greece.